Featured photo credit: Nadia Amura – Stuart Semple Studios | 303 Magazine
In the past few years, British artist and agitator Stuart Semple has become something of a folk hero to many members of the Art world, and with excellent reason. (What's the story so far? This link will bring you up to speed.) Call it deviously clever, or call it petty, this man hailed as the "Basquiat of the Noughties" has made it possible for artists everywhere (except Anish Kapoor and Co., of course) to play, experiment and make wonderful art with his open-source pure, versatile pigments and inventive textures.
There is some wisdom to be gleaned from the good Semple has wrought, beyond the shenanigans and shade.
Everyone has a right to make art. Everyone.
Anish Kapoor quickly snapped up the rights to Vantablack all to himself. Because of this, he held exclusive rights to a volatile, noxious, frangible material that would cost thousands of dollars to grow in a lab. Not exactly convenient material to use in a piece of art.
Stuart Semple stepped up, and concocted a more viable, affordable, non-toxic paint that was as close as possible to Vantablack — and smelled of cherries, too. The art world went wild, and those who did purchase a tub or two continue to be incredibly pleased with the results, all without having to break the bank. Everyone wins.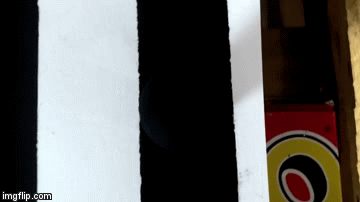 Focus on growth.
Semple later on developed Black 2.0. It was much blacker, absorbed reflective light better, was water-soluble for ink and even dye use. It was a third cheaper than the initial formula, making it more accessible to everybody. Within a few more months, he announced on YouTube that Black 3.0 was blacker than ever, with much gratitude to the creative community. As soon as the long-awaited Black 3.0 hit the Culture Hustle shelves, artists around the world placed their orders and began making more art with it.
Semple went on to create and share more of his art-world Willy Wonka wonders.
Among them were:
the "colouriest" watercolors
the "glitteriest" glass-shard glitter
100% compostable glitter in various hues
iridescent and holographic textures
a purple pigment that changes to his signature Pinkest Pink at the slightest change in temperature
and a luminescent pigment that glowed in the dark for up to twelve hours, bringing delight and wonder to the hearts of many a creative
As of this writing, he has released a pink pigment that glows a delicious peach to mellow salmon, and blue pigment that glows like jellyfish, when the lights go out.

Anish Kapoor has so far used his Vantablack as the interior of a $95,000 watch. Oh, and an eight-foot hole that injured someone.
Stay classy, stay kind.
Granted, this really all began when Semple decided to share The World's Pinkest Pink pigment to the entire world — except Anish Kapoor. Not him, nor his associates, nada, zilch, zero. To which, of course, Anish Kapoor gets his hands on the magical stuff, and flips Semple — and the rest of the internet — the bird. Not cool.

Meanwhile, Semple responds in kind — much, much kinder.
Somewhere in the comments, one of the scientists behind Surrey Labs (the makers of Vantablack) tried to throw some shade the artist's way. Based on the conversation below, it'd be safe to say Semple brought some sunshine in with his unassuming affability and sincerity.
This, friends, is how you handle disagreement with class.
Build community.
Part of the process in creating Black 3.0 was to send samples of different formulations to hundreds of volunteers all over the globe, gathering precious feedback on consistency, durability, color, and even smell. "As a community, we can make the blackest black possible", he declared, and it was indeed so. Ever since the beginning, he has encouraged artists to #SharetheBlack through their pieces, and the world has since then enjoyed so much more expression and creativity online.

Semple has always made it a point in his posts, his videos, and his announcements that there is strength in numbers, and that every member of the creative community contributes to the success of his materials and pigments. The spotlight is not his to keep; it's always been about everyone who's pitched in through their time, talents, and treasures. "I don't want to keep this to myself anymore," he often says, and so do his art materials and success get the same treatment — it's all shared, everyone is part of it, and the world is better for it.
Don't forget to play.
Play is part and parcel of making Art, and Stuart Semple understands this very well. Back in 2018, Semple cast his own brand of magic across Denver, Colorado, under the Happy City project. Commuters were invited to check in their worries at the "Emotional Baggage Drop" located at Union Station. Pop-up interactive installations and art interventions sprung up everywhere. Smiley face eco-clouds were released at major public landmarks and libraries. Aside from the talks and workshops, he encouraged local artists to take over neglected alleyways, as well as Denverites to collaborate with him on a limited edition wax rubbing. the project closed with an enormous dance party with an inflatable dance floor and a gigantic disco ball that soul-trained close to Camp. When it comes to Happy, Creativity, and Connection, Semple is not one for half-measures.
But why Play, and what's so important about it? Play is essential to creativity, because it focuses on process rather than results. Think of the phrase "It's not the destination, but the journey". Art is a journey one takes with their mediums and materials as travel companions, sketches as signposts, until one can finally step back, take it all in, and sigh in relief with the faint assurance in their bones that they are, at last, Home.
Much of Stuart Semple's art carries Play quite tenderly and unassumingly at its core, and this is what comforts and invites connection. He recognizes that Art is what makes us human, and honors that with tender loving kindness.
It does seem that the man has so much TLC in his system, it just needs to be shared. As a matter of fact, he started a tradition among his fans in honor of Anish Kapoor's 64th birthday.
But what about this feud with Kapoor? Semple has taken the first step and extended the olive branch. In an inverse of his usual disclaimers at the end of his pigments, he appends this at the end of his special LIT line:
*Especially Anish Kapoor. If you are Anish Kapoor, can prove you are associated with Anish Kapoor or to the best of your knowledge information and belief this substance is going to make it's way into the hands of Anish Kapoor, your order will be free! We want you to know how lovely it feels to #shareTheLight

Culture Hustle | Stuart Semple
Has the feud fizzled out, though? We're not so sure, but we do hope so. We do know, though, that Stuart Semple's example teaches us that anyone and everyone has the right to make art. Even Anish Kapoor.